Doopsgezinde

Stichting

Nederland-Polen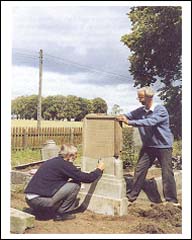 Since 1993 our foundation has been caring for the evidences of Mennonite Culture in Poland.
It has tried to save and restore the still present but badly damaged churches, cemetries, farms and mills with the assistance of related institutions in the United States, Canada, Germany and Poland.. In this way a working party has been engaged in restoring the cemetries of Stogi Malborski (Heubuden), Markusy (Markushof), Szalieniec (Törichthof),Stawiec (Ladekopp), Wicrowo (Ellerwald) and Kepniewo (Campenau).
The foundation gets in touch with the local population, schools, historical clubs, museums and the Ancient Monuments Department of the Polish Ministry of Works. By organising visits, stimulating research etc. interest is created for this forgotten history.